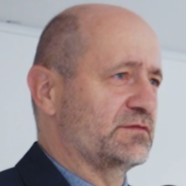 dr hab. inż. Jan Daciuk
Professor
Workplace

Gmach Elektroniki Telekomunikacji i Informatyki pokój 418

Phone

(58) 347 26 89
W tym artykule przedstawiamy nowy algorytm minimalizacji deterministycznego automatu skończonego. Algorytm jest przyrostowy - może być zatrzymany w dowolnym momencie, dając częściowo zminimalizowany automat. Wszystkie inne (znane) algorytmy minimalizacji dają wyniki pośrednie nieprzydatne dla częściowej minimalizacji. Ponieważ pierwszy algorytm jest łatwo zrozumiały ale mało wydajny, rozważamy trzy praktyczne, znaczące usprawnienia....

This paper is a follow-up to Jan Daciuk's experiments on space-efficient finite state automata representation that can be used directly for traversals in main memory (Daciuk, 2000)[4]. We investigate several techniques for reducing memory footprint of minimal automata, mainly exploiting the fact that transition labels and transition pointer offset values are not evenly distributed and so are suitable for compression. We achieve...

Przedstawiona zostaje technika reprezentacji modeli języka w przetwarzaniu języka naturalnego wymagająca mało pamięci. Po krótkim omówieniu przyczyn poszukiwania oszczędnej reprezentacji takich modeli języka, pokazane jest, jak automaty skończone mogą być użyte w tym celu. Technika może być postrzegana jako zastosowanie i rozszerzenie doskonałej funkcji mieszającej z wykorzystaniem automatów skończonych. Pierwsze doświadczenia...
Obtained scientific degrees/titles
Obtained science degree

dr inż. Information science

(Technology)
seen 692 times