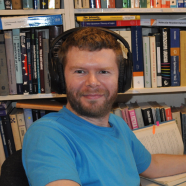 dr hab. inż. arch. Jan Kozicki
The purpose of this work is to present the development of an open-source software based on a discrete description of matter applied to study the behavior of geomaterials. This software uses Object Oriented Programming techniques, and its methodology design uses three different methods, which are the Discrete Element Method (DEM) [F. Donzé, S.A. Magnier, Formulation of a three-dimensional numerical model of brittle behavior, Geophys....

Artykuł omawia wpływ szorstkości ziaren na wytrzymałość, zmiany objętościowe, sprężyste i dysypywane energie podczas jednorodnego quasi-statycznego trójosiowego ściskania. Obliczenia wykonano stosując metodę elementów dyskretnych. W obliczeniach zastosowano różne szorstkości ziaren.

Artykuł porównuje wyniki DEM i MES dla testu bezpośredniego ścinania materiałów granulowanych. Obliczenia MES wykonano przy zastosowaniu mikropolarnego modelu hipoplastycznego. W obliczeniach DEM z kulami i momentami kontaktu zwrócono uwagę na zjawiska mikrostrukturalne w strefie ścinania na poziomie ziaren.
Obtained scientific degrees/titles
Obtained science degree

dr inż. Construction

(Technology)
seen 1286 times