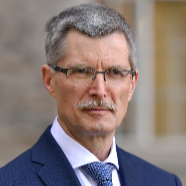 prof. dr hab. inż. Janusz Cieśliński
This work presents measurements of the contact angle of sessile droplets for three nanofluids, i.e. water–Al2O3, water–TiO2 and water–Cu. The plates made of glass, anodized aluminium and stainless steel of different roughness served as substrates. Ultrasonic vibration was used for 30–60 min in order to stabilise the dispersion of the nanoparticles. Nanoparticles were tested at the concentration of 0.01%, 0.1%, and 1% by weight....

Przedstawiono wyniki badań wpływu geometrii parownika, rodzaju rur użytych do budowy parownika, rodzaju cieczy pośredniej oraz poziomu cieczy nad najwyższym rzędem rur na działanie dwufazowego, termosyfonowego wymiennika ciepła. Zaprezentowano algorytm obliczeń przedstawionego wymiennika.

Przedstawiono wyniki pomiarów współczynnika przejmowania ciepła podczas wrzenia dwóch nanocieczy, tj. woda-Al2O3 i woda-Cu o trzech koncentracjach masowych nanocząstek: 0.01%,0.1% oraz 1% na poziomych gładkich rurkach ze stali nierdzewnej i miedzi o średnicy zewnętrznej 10 mm.
Obtained scientific degrees/titles
Obtained science degree

dr hab. Mechanical engineering

(Technology)

Obtained science degree

dr Mechanical engineering

(Technology)
seen 1390 times