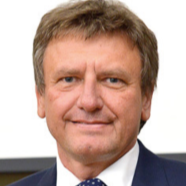 prof. dr hab. inż. Janusz Datta
Profesor
Workplace

Budynek C Wydziału Chemicznego pokój 211

Phone

(58) 347 14 14
Vice-Dean for Scientific Research
Scharakteryzowano proces glikolizy poprodukcyjnych odpadów poliuretanowych przeprowadzony przy użyciu glikolu heksametylenowego. Przedstawiono niektóre właściwości fizykochemiczne otrzymanych glikolizatów. Omówiono wyniki analizy termicznej, termomechanicznej oraz budowy chemicznej metodą FTIR zsyntetyzowanych elastomerów poliuretanowych. Właściwości mechaniczne zmierzono w warunkch statycznych przy użyciu uniwersalnej maszyny...

The presented study examined the morphology and mechanical properties of biocomposites obtained from kenaf natural fibre and thermoplastic polyurethane. Kenaf was modified using various methods, namely: acetylation, blocked isocyanate, maleic anhydride and permanganate treatment. Those methods and ways of carrying out of surface modifications were not studied before on kenaf/thermoplastic polyurethane composites. Different fibre...

Natural oils have been used in the production of plastics for a long time. However, the number of studies dedicated to polyurethane research has shown an increase only recently. Usually, petrochemical components are used in polyurethane synthesis. Nowadays, there have been attemptsmade to replace polyols in polyurethanes with the modified oils and other natural raw materials. It is a promising and important scenario because the...
Obtained scientific degrees/titles
Obtained science title

prof. dr hab. inż. Chemical technology

(Technology)

Centralna Komisja ds. Stopni i Tytułów Naukowych
seen 1177 times