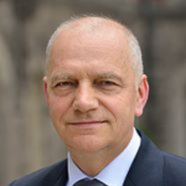 prof. dr hab. inż. Janusz Nieznański
Profesor
Workplace

Gmach Elektrotechniki i Automatyki B ul. Sobieski pokój 101

Phone

(58) 347 25 34

E-mail
In contemporary power systems, the load shedding schemes are typically based on disconnecting a pre-specified amount of load after the frequency drops below a predetermined value. The actual conditions at the time of disturbance may largely dier from the assumptions, which can lead to non-optimal or ineective operation of the load shedding scheme. For many years, increasing the eectiveness of the underfrequency load shedding (UFLS)...

This paper proposes the use of barycentric coordinates in the development and implementationof space-vector pulse-width modulation (SVPWM) methods, especially for inverters with deformed space-vector diagrams. The proposed approach is capable of explicit calculation of vector duty cycles, independentof whether they assume ideal positions or are displaced due to the DC-link voltage imbalance. The use ofbarycentric coordinates also...

The paper presents a comprehensive approach to the compensation of the grid current distortion for shunt active power filter systems. Four different sources of current distortion are addressed: imperfect grid synchronization caused by the distortion in the grid voltages, time delays in the estimation of compensating currents and grid voltages, fluctuations of the dc bus voltage, and the distortion of inverter output voltages due...
seen 600 times