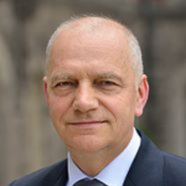 prof. dr hab. inż. Janusz Nieznański
Profesor
Workplace

Budynek Wydziału Elektrotechniki i Automatyki - Laboratorium LINTE^2

Phone

(58) 347 16 75

E-mail
Prorektor ds. umiędzynarodowienia i innowacji
The paper describes a novel approach in battery storage system modelling. Different types of lithium-ion batteries exhibit differences in performance due to the battery anode and cathode materials being the determining factors in the storage system performance. Because of this, the influence of model parameters on the model accuracy can be different for different battery types. These models are used in battery management system...

This paper proposes the use of barycentric coordinates in the development and implementationof space-vector pulse-width modulation (SVPWM) methods, especially for inverters with deformed space-vector diagrams. The proposed approach is capable of explicit calculation of vector duty cycles, independentof whether they assume ideal positions or are displaced due to the DC-link voltage imbalance. The use ofbarycentric coordinates also...

In contemporary power systems, the load shedding schemes are typically based on disconnecting a pre-specified amount of load after the frequency drops below a predetermined value. The actual conditions at the time of disturbance may largely dier from the assumptions, which can lead to non-optimal or ineective operation of the load shedding scheme. For many years, increasing the eectiveness of the underfrequency load shedding (UFLS)...
seen 870 times