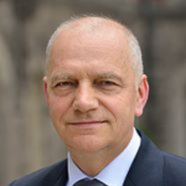 prof. dr hab. inż. Janusz Nieznański
Professor
Workplace

Gmach Elektrotechniki i Automatyki B ul. Sobieski pokój 101

Phone

(58) 347 25 34
Prorektor ds. umiędzynarodowienia i innowacji
Przedstawiono nową, kompleksową metodę kompensacji zniekształceń napięcia wyjściowego falownika z modulacją szerokości impulsów. Proponowana metoda umożliwia automatyczne dopasowanie parametrów charakterystyki kompensacyjnej do aktualnej konfiguracji falownika i obciążenia, np. po zmianie przewodu łączącego falownik z obciążeniem. Adaptacja do nowych warunków polega na dostrajaniu wartości parametrów zależności opisującej napięcie...

This paper proposes the use of barycentric coordinates in the development and implementationof space-vector pulse-width modulation (SVPWM) methods, especially for inverters with deformed space-vector diagrams. The proposed approach is capable of explicit calculation of vector duty cycles, independentof whether they assume ideal positions or are displaced due to the DC-link voltage imbalance. The use ofbarycentric coordinates also...

In contemporary power systems, the load shedding schemes are typically based on disconnecting a pre-specified amount of load after the frequency drops below a predetermined value. The actual conditions at the time of disturbance may largely dier from the assumptions, which can lead to non-optimal or ineective operation of the load shedding scheme. For many years, increasing the eectiveness of the underfrequency load shedding (UFLS)...
seen 1602 times