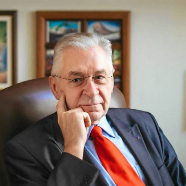 prof. dr hab. inż. Janusz Rachoń
Specjalista - doradca
Workplace

Budynek A Wydziału Chemicznego pokój 109

Phone

(58) 347 12 34, (58) 347 20 23
The purpose of this article is to provide an overview of the latest applications of organophosphorus compounds (OPs) that exhibit biological activity. A large family of OPs have become popular in recent years. The practical application of OPs in modern medicine has been attributed to their unique properties. In this article, the methods used to select these compounds will be emphasized. This paper will first outline the findings...

Based on the frameworks of 7-hydroxy-2,3-dihydro-1H-cyclopenta[c]chromen-4-one, 3-hydroxy- 7,8,9,10-tetrahydro-6H-benzo[c]chromen-6-one and 3-hydroxy-8,9,10,11-tetrahydro-7H-cyclohepta[c] chromen-6-one, a series of bicoumarin thiophosphate analogs have been synthesized and biologically evaluated. Additionally, their binding modes have been modeled using docking techniques. The inhibitory properties of the synthesized compounds...

In the present work, we report convenient methods for the synthesis and biological evaluation of phosphate and thiophosphate biphenyl derivatives exhibiting steroid sulfatase (STS) activity. The described synthesis is based on straightforward preparation of biphenyl-4-ol and 40-hydroxybiphenyl- 4-carboxylic acid ethyl ester modified with various phosphate or thiophosphate moieties. The inhibitory effects of these compounds were...
Obtained scientific degrees/titles
Obtained science title

prof. dr hab. inż. Chemistry

(Chemical sciences)

Obtained science degree

dr hab. inż. Chemistry

(Chemical sciences)

Obtained science degree

dr Chemistry

(Chemical sciences)
seen 2712 times