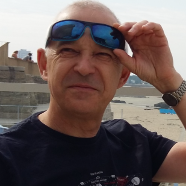 prof. dr hab. inż. Jarosław Chojnacki
Six new 1-benzoyl-3-phenylthiourea and 1-benzoyl-3-(2-methylphenyl)thiourea complexes of mercury( II) were obtained in the reactions of the ligands with HgX2 in methanol (X = Cl, Br, I). Their structures, determined by single-crystal X-ray diffraction analysis, exhibit different stoichiometries and molecular organization. Coordination centers adopt more or less distorted tetrahedral geometry (five structures) or distorted trigonal...

Photoluminescent lanthanide−organic frameworks (Ln-MOFs) were printed onto plastic and paper foils with a conventional inkjet printer. Ln-MOF inks were used to reproduce color images that can only be observed under UV light irradiation. This approach opens a new window for exploring Ln-MOF materials in technological applications, such as optical devices (e.g., lab-on-a-chip), as proof of authenticity for official documents.

A series of novel N-substituted N'-(2-arylmethylthio-4-chloro-5-methylbenzenesulfonyl)guanidines 9 e41 have been synthesized and investigated as inhibitors of four isoforms of zinc enzyme carbonic anhydrase (CA.EC 4.2.1.1), that is the cytosolic CA I and II, and cancer-associated isozymes CA IX and XII. Against the human CA I investigated compounds showed KI in the range of 87e6506 nM, toward hCA II ranging from 7.8 to 4500 nM,...
Obtained scientific degrees/titles
Obtained science title

prof. dr hab. inż. Chemical sciences

(Natural sciences)

Prezydent RP

Obtained science degree

dr hab. inż. Chemistry

(Chemical sciences)

Obtained science degree

dr inż. Chemistry

(Chemical sciences)
seen 1315 times