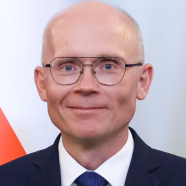 dr hab. inż. Jarosław Guziński
Associate Professor
Workplace

Gmach Elektrotechniki i Automatyki B ul. Sobieski pokój 219

Phone

(58) 347 29 60
This paper presents an approach to design a measurement-based controller for induction machines. The proposed control approach is motivated by the fact that developing an appropriate mechanical model of such induction machines is a challenging task. Since our proposed control methodology is only on the basis of measured data, the controller design does not require any information about the model of the mechanical part. The control...

The conventional approach to electrical safety under fault condition in typical power systems considers earth fault currents of sinusoidal waveform and frequency of 50/60 Hz. However, in circuits with variable-speed drives, there is earth fault current flow with harmonics, and these harmonics influence the threshold of ventricular fibrillation. The paper presents earth fault current waveforms in circuits with variable-speed drives...

W artykule przedstawiono metodę wektorowej modulacji szerokości impulsów pięciofazowego falownika napięcia. W takim przekształtniku załączenie wektorów aktywnych powoduje jednoczesne formowanie dwóch wektorów napięcia wyjściowego. Komplikacja sterowania wynika z tego, że położenie obu wektorów napięcia oraz ich długości są wzajemnie zależne. Rozwiązanie zaproponowane w pracy umożliwia jednak niezależne formowanie dwóch wektorów...
Obtained scientific degrees/titles
Obtained science degree

dr hab. inż. Electrical engineering

(Technology)

Obtained science degree

dr inż. Electrical engineering

(Technology)
seen 430 times