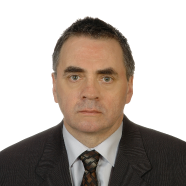 prof. dr hab. inż. Jarosław Przewłócki
Full Professor
Workplace

Gmach Główny pokój 364

Phone

(58) 347 17 77
The paper presents in brief the history of foundation engineering with a particular regard to its development, applied techniques and materials. Different types of old foundations in relation to various soil conditions are considered. Basic methods of preservation of old foundations, with special emphasis given to their faults and advantages are discussed. Finally, some problems of the reuse of pre-existing foundations are raised....

W artykule przedstawiono wyniki obliczeń stateczności zbocza na odcinku obejmującym trzy osuwiska trasy linii kolejowej, w rejonie zbiornika wodnego w Świnnej Porębie na rzece Skawie. Obliczenia wykonano w układzie płaskim programem FLAC2D opartym na metodzie różnic skończonych. Rozpatrzono kilka metod zabezpieczenia zbocza dokonując oceny ich skuteczności.

Celem artykułu jest przedstawienie polskiego przykładu działań rewitalizacyjnych na terenach "odzyskiwanych" w mieście. Opisywany proces dotyczy Garnizonu w Gdańsku Wrzeszczu. Tereny te były dawniej zajmowane przez wojsko, obecnie od kilku lat prowadzone są na nich prace budowlane mające na celu stworzenie kompleksowego zespołu mieszkalno-usługowego z bogatą ofertą usług towarzyszących. Rewitalizacja tego obszaru umożliwia włączenie...
Obtained scientific degrees/titles
Obtained science title

prof. dr hab. Construction

(Technology)

Obtained science degree

dr hab. inż. Construction

(Technology)

Obtained science degree

dr inż. Construction

(Technology)

Instytut Budownictwa Wodnego Polskiej Akademii Nauk w Gdańsku
seen 388 times