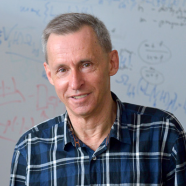 dr hab. inż. Jerzy Konorski
A class of contention-type MAC protocols (e.g., CSMA/CA) relies on random deferment of packet transmission, and subsumes a deferment selection strategy and a scheduling policy that determines the winner of each contention cycle. This paper examines contention-type protocols in a noncooperative an ad-hoc wireless LAN setting, where a number of stations self-optimise their strategies to obtain a more-than-fair bandwidth share. Two...

Analizowany jest rozdział pasma realizowany przez protokół CSMA/CA w obecności anonimowych stacji egoistycznych, atakujących wykładniczy mechanizm odczekania. Przy założeniu ruchu nasycającego sieć pokazuje się, że powstaje w ten sposób niekooperacyjna gra o strukturze wypłat wieloosobowego dylematu więźnia. Wykorzystując własności macierzy wypłat zaproponowano strategię dla odpowiedniej gry wieloetapowej, zapewniającą asymptotyczne...

Dla konstrukcji strategii zapobiegającej atakom na mechanizm odczekania w sieciach lokalnych IEEE 802.11 zastosowano wybór konfiguracji MAC sterowany przez liczniki etapów gry z losowymi wartościami początkowymi. Wykazano, że przy pewnych warunkach nałożonych na rozkady prawdopodobieństwa liczników standardowe ustawienia parametrów MAC stają się punktem doskonałej równowagi strategicznej.
Obtained scientific degrees/titles
Obtained science degree

dr hab. inż. Information science

(Mathematics)

Obtained science degree

dr inż. Information science

(Mathematics)

Instytut Podstaw Informatyki PAN
seen 889 times