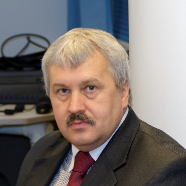 dr hab. inż. Jerzy Pluciński
W pracy wykorzystano zmodyfikowaną metodę Monte Carlo do numerycznego modelowania propagacji promieniowania z zakresu bliskiej podczerwieni w warstwach anatomicznych głowy. Badano efekt zmian szerokości warstwy podpajęczynówkowej pod wpływem tętna na natężenie promieniowania wstecznie rozpraszanego. Przeprowadzone obliczenia pokazały, że możliwe jest monitorowanie zmian tej szerokości na podstawie pomiarów transmisji promieniowania...

W artykule przedstawiono zastosowanie optycznej tomografii koherentnej (OCT) do badania antykorozyjnych powłok ochronnych. Omówiono właściwości optycznej interferometrii niskokoherentnej jako zastosowanej metody pomiarowej, opisano budowę pomiarowego systemu OCT, zbudowanego w Katedrze Metrologii i Optoelektroniki WETI PG. Przy pomocy zrealizowanego systemu przebadano grupę powierzchni metalicznych pokrytych różnymi powłokami antykorozyjnymi....

This paper describes how parameters of investigated substances and the fiber-optic Fabry-Pérot sensing interferometer affect the spectrum of the optical radiation at the output of the sensor. First, the modeling of the operation of the sensing interferometer was conducted. Most important parameters and effects that were taken into account are: dependences of the refractive indices of the core and the cladding, as well the mode...
Obtained scientific degrees/titles
Obtained science degree

dr hab. inż. Electronics

(Technology)

Obtained science degree

dr inż. Electronics

(Technology)
seen 396 times