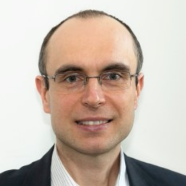 Deputy Director of the Computer Centre TASK
Workplace

Gmach Elektroniki Telekomunikacji i Informatyki pokój 344 NE

Phone

(58) 348 63 43
Two new algorithms for the all-reduce operation optimized for imbalanced process arrival patterns (PAPs) are presented: (1) sorted linear tree, (2) pre-reduced ring as well as a new way of online PAP detection, including process arrival time estimations, and their distribution between cooperating processes was introduced. The idea, pseudo-code, implementation details, benchmark for performance evaluation and a real case example...

In this paper we present a new environment called MERPSYS that allows simulation of parallel application execution time on cluster-based systems. The environment offers a modeling application using the Java language extended with methods representing message passing type communication routines. It also offers a graphical interface for building a system model that incorporates various hardware components such as CPUs, GPUs, interconnects...

The paper presents state of the art of energy-aware high-performance computing (HPC), in particular identification and classification of approaches by system and device types, optimization metrics, and energy/power control methods. System types include single device, clusters, grids, and clouds while considered device types include CPUs, GPUs, multiprocessor, and hybrid systems. Optimization goals include various combinations of...
seen 1028 times