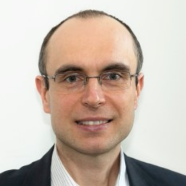 Adiunkt
Workplace

Budynek B Wydziału Elektroniki, Telekomunikacji i Informatyki

Phone

+48583486343
Deputy Director of the Computer Centre TASK
Workplace

Budynek B Wydziału Elektroniki, Telekomunikacji i Informatyki

Phone

+48583486343
Two novel algorithms for the all-gather operation resilient to imbalanced process arrival patterns (PATs) are presented. The first one, Background Disseminated Ring (BDR), is based on the regular parallel ring algorithm often supplied in MPI implementations and exploits an auxiliary background thread for early data exchange from faster processes to accelerate the performed all-gather operation. The other algorithm, Background Sorted...

Imbalanced process arrival patterns (PAPs) are ubiquitous in many parallel and distributed systems, especially in HPC ones. The collective operations, e.g. in MPI, are designed for equal process arrival times (PATs), and are not optimized for deviations in their appearance. We propose eight new PAP-aware algorithms for the scatter and gather operations. They are binomial or linear tree adaptations introducing additional process...

Two new algorithms for the all-reduce operation optimized for imbalanced process arrival patterns (PAPs) are presented: (1) sorted linear tree, (2) pre-reduced ring as well as a new way of online PAP detection, including process arrival time estimations, and their distribution between cooperating processes was introduced. The idea, pseudo-code, implementation details, benchmark for performance evaluation and a real case example...
seen 3325 times