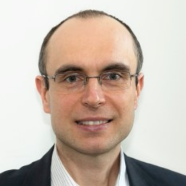 Adiunkt
Workplace

Gmach Elektroniki Telekomunikacji i Informatyki pokój 344 NE

Phone

(58) 348 63 43
Deputy Director of the Computer Centre TASK
Workplace

Gmach Elektroniki Telekomunikacji i Informatyki pokój 344 NE

Phone

(58) 348 63 43
Two new algorithms for the all-reduce operation optimized for imbalanced process arrival patterns (PAPs) are presented: (1) sorted linear tree, (2) pre-reduced ring as well as a new way of online PAP detection, including process arrival time estimations, and their distribution between cooperating processes was introduced. The idea, pseudo-code, implementation details, benchmark for performance evaluation and a real case example...

The paper presents state of the art of energy-aware high-performance computing (HPC), in particular identification and classification of approaches by system and device types, optimization metrics, and energy/power control methods. System types include single device, clusters, grids, and clouds while considered device types include CPUs, GPUs, multiprocessor, and hybrid systems. Optimization goals include various combinations of...

Imbalanced process arrival patterns (PAPs) are ubiquitous in many parallel and distributed systems, especially in HPC ones. The collective operations, e.g. in MPI, are designed for equal process arrival times (PATs), and are not optimized for deviations in their appearance. We propose eight new PAP-aware algorithms for the scatter and gather operations. They are binomial or linear tree adaptations introducing additional process...
seen 1464 times