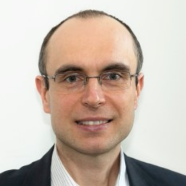 dr hab. inż. Jerzy Proficz
Professor
Workplace

Gmach Elektroniki Telekomunikacji i Informatyki pokój 344 NE

Phone

(58) 348 63 43
Deputy Director of the Computer Centre TASK
Workplace

Gmach Elektroniki Telekomunikacji i Informatyki pokój 344 NE

Phone

(58) 348 63 43
Two novel algorithms for the all-gather operation resilient to imbalanced process arrival patterns (PATs) are presented. The first one, Background Disseminated Ring (BDR), is based on the regular parallel ring algorithm often supplied in MPI implementations and exploits an auxiliary background thread for early data exchange from faster processes to accelerate the performed all-gather operation. The other algorithm, Background Sorted...

In the article we propose an automatic power capping software tool DEPO that allows one to perform runtime optimization of performance and energy related metrics. For an assumed application model with an initialization phase followed by a running phase with uniform compute and memory intensity, the tool performs automatic tuning engaging one of the two exploration algorithms—linear search (LS) and golden section search (GSS), finds...

The Clairvoyant algorithm proposed in "A novel MPI reduction algorithm resilient to imbalances in process arrival times" was analyzed, commented and improved. The comments concern handling certain edge cases in the original pseudocode and description, i.e., adding another state of a process, improved cache friendliness more precise complexity estimations and some other issues improving the robustness of the algorithm implementation....
seen 4000 times