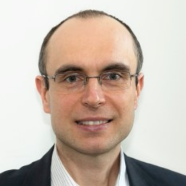 Deputy Director of the Computer Centre TASK
Workplace

Gmach Elektroniki Telekomunikacji i Informatyki pokój 344 NE

Phone

(58) 348 63 43
Two new algorithms for the all-reduce operation optimized for imbalanced process arrival patterns (PAPs) are presented: (1) sorted linear tree, (2) pre-reduced ring as well as a new way of online PAP detection, including process arrival time estimations, and their distribution between cooperating processes was introduced. The idea, pseudo-code, implementation details, benchmark for performance evaluation and a real case example...

In this paper we present a new environment called MERPSYS that allows simulation of parallel application execution time on cluster-based systems. The environment offers a modeling application using the Java language extended with methods representing message passing type communication routines. It also offers a graphical interface for building a system model that incorporates various hardware components such as CPUs, GPUs, interconnects...

The paper presents modeling of performance and power consumption when running parallel applications on modern cluster-based systems. The model includes basic so-called blocks representing either computations or communication. The latter includes both point-to-point and collective communication. Real measurements were performed using MPI applications and routines run on three different clusters with both Infiniband and Gigabit Ethernet...
seen 800 times