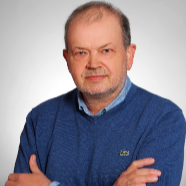 dr hab. inż. Jerzy Pyrchla
Ensuring of security in the coastal area makes on a seaside countries research in the field of infrastructure spatial information of environmental data. The paper presents the results of work on the construction of this infrastructure by integrating electronic navigational chart with ortophotomaps of coastal areas as well as numerical data from weather and hydrodynamic models. Paper focuses on a problems associated with creating...

Knowing the exact number of fruit and trees helps growers to make better decisions about how to manage their production in the orchard and prevent plant diseases. The current practice of yield estimation is to manually count fruit or flowers (before harvesting), which is a very time-consuming and costly process. Moreover it's not practical for large orchards. It also doesn't allow to make predictions of plant development in a more...

This paper presents the results of the practical and simulation research into determining the routes of movement of small objects moving together with surface water masses in basins adjacent to the port. The results of this research were referenced against the modelling of routes of small objects in port channel basins. The results of practical research concerning the movement of small objects in basins adjacent to the port were...
seen 1339 times