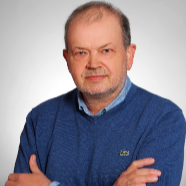 dr hab. inż. Jerzy Pyrchla
Ensuring of security in the coastal area makes on a seaside countries research in the field of infrastructure spatial information of environmental data. The paper presents the results of work on the construction of this infrastructure by integrating electronic navigational chart with ortophotomaps of coastal areas as well as numerical data from weather and hydrodynamic models. Paper focuses on a problems associated with creating...

This paper presents the results of the practical and simulation research into determining the routes of movement of small objects moving together with surface water masses in basins adjacent to the port. The results of this research were referenced against the modelling of routes of small objects in port channel basins. The results of practical research concerning the movement of small objects in basins adjacent to the port were...

Ensuring security in a harbor requires research into its infrastructure using spatial environmental data. This paper presents a methodology that defines the design of a graph for modeling the interactions between surface currents and moving objects. Combining this graph with port charts that integrate electronic navigation charts with coastal orthophotographs allows us to perform a multidimensional analysis. In addition, the complete...
seen 278 times