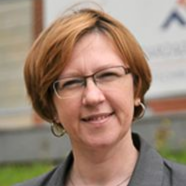 Biography
Born on 5th of April, 1965 in Gdansk. In 1987-1991 studied the economics of transport, at the University of Gdansk. At 1993 she started to work at the Faculty of Management and Economics. In 1997 received a PhD at the faculty, in 2006 habilitation at the Faculty of Management, University of Gdansk. Since 2009 Associate Professor at Gdansk University of Technology. In 2010-2012 Associate Professor of Humanistic High School at Gdansk.
The leader of scientific project: Euro 2012 – the chances and threats for Pomerania, co-financed by the EU.
Since 2008 the leader of the project: Students Entrepreneurial Attitude Survey (SEAS), which aim is to analyse the students attitudes and their changes among the students starting and graduated from Management and Economics Faculty.
Main researcher in international and national projects, and in the fourth editions of panel studies among the Pomeranians' entrepreneurs, called Pomeranian Business Observatory.
Entrepreneurship and its modes and methods are the main fields of scientific interest. Among more than 100 publications (including five books), there are also papers regarding small firms growth. However the favourite subject, a kind of scientific hobby, is women entrepreneurship. Supervisor of one PhD, the next four are in progress.
Organizer and co-organizer of international ENTIME (Entrepreneurship in Modern Economy) conference, hosted by the faculty regularly since 2008. The founder and Chief redactor Editor of journal: Research in modern entrepreneurship, one of four in Poland dealing with entrepreneurship.
The member of Polish and foreign scientific boards of journals and scientific conferences.
The member of scientific societies: USASBE (2007-2008), since 2015: European Council of Small Business i International Council of Small Business.
The co-founder of a society: Education for Entrepreneurship, member of its board for three terms. Co-founder of Foundation for the Development of Economic Thought at the Faculty, being a leader of it scientific board.
The regional coordinator of two teaching projects, co-financed by EU, the coordinator of the POWER project at this moment. The initiator and author of a new teaching speciality: Entrepreneurship and marketing.
Since 2011 an expert for program and quality in the Polish Accreditation Committee. Expert in didactic and scientific projects related to recognition of learning outcomes, SMEs support and long life learning.
From 2006 head of the Entrepreneurship team, within an Economics and Enterprise Management Department. The co-founder of the Department of Entrepreneurship and Economic Law, and since 2013 its head.
Since 1.09.2012 till now the dean of the Faculty of Management and Economics
Husband Michel is a full professor, head of the Department of Machine Design and Automotive Engineering at the Faculty of Mechanical Engineering. The son (PhD student at PAS), and daughter (PhD student at Brunel University) are both graduates of Gdańsk University of Technology, Mechanical Faculty. The youngest daughter is still at secondary school.
Interested in good crime books and the blues and country music. Besides, likes to travel, the bike riding, cross-country and downhill skiing. Her passion are mountains.
seen 1422 times