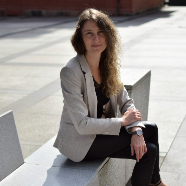 Photoelectric properties of the planar ITO/MoO3/DBP/PTCBI/BCP/Ag system were characterized on the basis of short-circuit current, open-circuit voltage and absorption spectra, and current-voltage measurements in the dark and under monochromatic illumination of low intensity. Photovoltaic performance of the system was compared with the performance of ideal semiconductor and excitonic cells of chosen bandgaps. Such analysis shows,...

Photovoltaic phenomenon taking place in cadmium selenide (CdSe)/titanyl phthalocyanine (TiOPc) planar heterojunction devices is described. Mechanisms of free charge carrier generation and their recombination in the dark and under illumination are analyzed, chosen photovoltaic parameters are presented.

Photoelectric properties of a novel poly[2-methoxy-5-(2-ethylhexyloxy-p-phenylenevinylen)] (MEH-PPV)/perfluorozincphthalocyanine (F16ZnPc) planar heterojunction provided with BCP and MoO3 buffer layers sandwiched between indium tin oxide (ITO) and Ag are shown. Efficient photogeneration of charge carriers at this junction is observed. Effect of bathocuproine (BCP) and MoO3 buffer layers on the performance of cells is analysed....
seen 2138 times