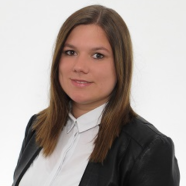 In this paper, the poly(ester-urethane)s obtained using petrochemical and bio-based chain extenders were prepared and characterized. The influence of glycols' origin on the chemical structure, mechanical and thermal properties of the prepared polyurethanes was studied. The materials were synthesised by prepolymer method. The first step involved the reaction of α,ω-dihydroxy(ethylene-butylene adipate (POLIOS 55/20) with 4,4'-diphenylmethane...

Commercially available polyurethanes are synthesized by the polyaddition of diisocyanates with polyols and low molecular weight chain extenders. A new approach to polyurethanes synthesis is realized via non-isocyanate routes. Negative impacts of petroleum-based chemicals on the environment and human health as well as gradual reduction of fuel-based resources, which leads to an increase in their prices, are an incentive to looking...

A new efficient method for the chemical decomposition of polyamide 6.6 by the glycolysis and amino-glycolysis processes was proposed. The glycolysis was conducted using the mass excess of ethylene glycol (EG) as a decomposing agent in the presence of a catalyst. Also, a mixture of EG and triethylenetetramine was used as another decomposing agent in the amino- glycolysis process. The described process of decomposition did not...
seen 394 times