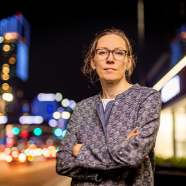 dr inż. arch. Karolina Zielińska-Dąbkowska
Life on Earth evolved in day-and-night cycles. Plants and animals, including insects such as the fruit fly, have a biological clock that controls their circadian rhythms — as the 2017 winners of the Nobel Prize in Physiology or Medicine showed. Now, humans' increasing reliance on artificial lighting is changing those rhythms.

Ornamental plants are often used in indoor environments as part of biophilic design to improve the health and wellbeing of occupants, and to support sustainable, green architecture. Unfortunately, many plants do not thrive and need to be continuously replaced, which is economically unsustainable. The wavelengths and spectrum ratio of commonly used light sources such as light emitting diode (LED), and the lack of an appropriate...
Obtained scientific degrees/titles
Obtained science degree

dr inż. arch. Architecture and urban sciences

(Technology)
seen 2096 times