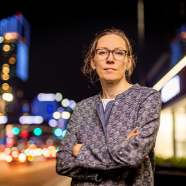 dr inż. arch. Karolina Zielińska-Dąbkowska
Life on Earth evolved in day-and-night cycles. Plants and animals, including insects such as the fruit fly, have a biological clock that controls their circadian rhythms — as the 2017 winners of the Nobel Prize in Physiology or Medicine showed. Now, humans' increasing reliance on artificial lighting is changing those rhythms.

Due to the wide reach of media reports about scientific research and technological tools such as the world wide web (WWW), the Internet, and web browsers, citizens today have access to factual information about the negative impact of artificial light at night (ALAN) on their dark skies, and their health and well-being. This means they can now make educated decisions and take the necessary steps to help protect themselves and their...

Urban environments have become significantly brighter and more illuminated, and cities now consider media architecture and non-static, self-luminous LED displays an essential element of their strategy to attract residents, visitors, and tourists in the hours after dark. Unfortunately, most often, they are not designed with care, consideration, and awareness, nor do they support the visual wellbeing and circadian rhythms of humans....
Obtained scientific degrees/titles
Obtained science degree

dr inż. arch. Architecture and urban sciences

(Technology)
seen 7217 times