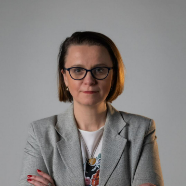 dr Katarzyna Kubiszewska
Adiunkt
Workplace

Budynek Wydziału Zarządzania i Ekonomii pokój 402

Phone

(58) 348 60 11
Research background: In a rapidly changing economic environment companies deepen their cooperation, which entails in all sectors of the economy. The progressive increase in market concentration, especially in the banking sector, is caused by various reasons. Purpose of the article: The purpose of this article is to compare the tendencies within market structures in few countries which origin from similar political systems and...

The issue of stability in economy is essential, both in theoretical as well as in practical discussion. It is especially important in an environment of economic transformation. The aim of the article is to assess the economic stability during the transformation of the south-east region of Europe over a period of 19 years (1996 – 2014), and the mutual relation between the economic stability and the transformation process, including...

The economic significance of the banking sector is well recognized in the theory and practice. In the literature there are discussed various topics concerning banking: banking sectors stability and its determinants, as well as influence of the banking sector on other sectors of the economy. Moreover the situation in the banking sector has been studied from different perspectives: its stability, profitability, efficiency, competition,...
seen 386 times