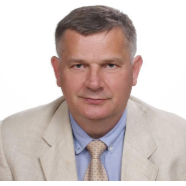 prof. dr hab. inż. Kazimierz Darowicki
Full Professor
Workplace

Budynek C Wydziału Chemicznego pokój 308

Phone

(58) 347 24 83, (58) 347 10 92
Head of Department
Workplace

Budynek C Wydziału Chemicznego pokój 305

Phone

(58) 347 24 83

E-mail
Water corrosivity in Gdansk Bay, Poland, the southern part of the Baltic Sea, was investigated. The analysed region is heavily industrialized, and the coastline is very diverse. Twenty-seven test points along the coastline were selected. Water parameters such as salinity, total dissolved solids content, resistivity, conductivity, oxygenation, pH and corrosion rate were determined. The results of the investigation are presented....

A new detection method has been presented of stray current field interference on underground metal structures. The method employs short time Fourier transformation (STFT). This method of analysis allows determination of signal spectral power density changes (e.g., structure potential) in the function of time. In the paper results have been presented of total time–frequency analysis of a pipeline potential in a stray current field...

Growth processes of diamond thin films on the fused silica optical fibres (10 cm in length) were investigated at various temperatures. Fused silica pre-treatment by dip-coating in a dispersion consisting of detonation nanodiamond (DND) in dimethyl sulfoxide (DMSO) with polyvinyl alcohol (PVA) was applied. Nanocrystalline diamond (NCD) films were deposited on the fibres using the microwave plasma assisted chemical vapour deposition...
Obtained scientific degrees/titles
Obtained science title

prof. Chemical technology

(Technology)

Obtained science degree

dr hab. Chemical technology

(Technology)

Obtained science degree

dr inż. Chemical engineering

(Technology)
seen 945 times