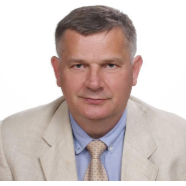 prof. dr hab. inż. Kazimierz Darowicki
Full Professor
Workplace

Budynek C Wydziału Chemicznego pokój 308

Phone

(58) 347 24 83, (58) 347 10 92
Head of Department
Workplace

Budynek C Wydziału Chemicznego pokój 305

Phone

(58) 347 24 83

E-mail
In this study the efficiency of electrochemical oxidation of aromatic pollutants, such as reactive dyes, at boron-doped diamond on silicon (Si/BDD) electrodes was investigated. The level of [B]/[C] ratio which is effective for the degradation and mineralization of selected aromatic pollutants, and the impact of [B]/[C] ratio on the crystalline structure, layer conductivity and relative sp3/sp2 coefficient of a BDD electrode were...

W pracy przedstawiono wyniki badań impedancyjnych otrzymanych podczas ekspozycji stopu MM55 w środowisku sztucznej wody morskiej. Wykazano ścisłą korelację charakterystyk impedancyjnych ze stężeniem benzotriazolu. Przedstawiono czasową ewolucję ochronnego efektu inhibicyjnego.

Zaprezentowano wyniki badań impedancyjnych stali stopowej 304L metodą klasycznej EIS i dynamicznej EIS. Badania związane były z przejściem stali stopowej ze stanu pasywnego do inicjacji powstawania wżerów. Na podstawie zmian parametrów elektrycznego schematu zastępczego stwierdzono, że najbardziej prawdopodobnym mechanizmem tworzenia się wżerów jest model zniszczenia (pęknięcia) warstwy pasywnej.
Obtained scientific degrees/titles
Obtained science title

prof. Chemical technology

(Technology)

Obtained science degree

dr hab. Chemical technology

(Technology)

Obtained science degree

dr inż. Chemical engineering

(Technology)
seen 1584 times