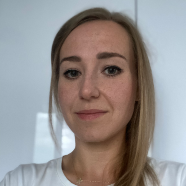 dr inż. Kinga Kaniewska
The reactivity of an anionic phosphanylphosphinidene complex of tungsten(VI), [(2,6-i-Pr2C6H3N)2(Cl)- W(η2-t-Bu2P=P)]Li·3DME toward PMe3, halogenophosphines, and iodine was investigated. Reaction of the starting complex with Me3P led to formation of a new neutral phosphanylphosphinidene complex, [( 2,6-i-Pr2C6H3N)2(Me3P)W(η2-t-Bu2P=P)]. Reactions with halogenophosphines yielded new catena-phosphorus complexes. From reaction with...

This work describes a series of iron(II) phosphanylphosphido complexes. These compounds were obtained by reacting lithiated diphosphanes R2PP(SiMe3)Li (R = t-Bu, i-Pr) with an iron(II) β-diketiminate complex, [LFe(μ2-Cl)2Li(DME)2] (1), where DME = 1,2-dimethoxyethane and L = Dippnacnac (β-diketiminate). While the reaction of 1 with t-Bu2PP(SiMe3)Li yields [LFe(η1-Me3SiPPt- Bu2)] (2), that of 1 with equimolar amounts of i-Pr2PP(SiMe3)Li,...

We report the synthesis of the first series of terminal phosphido iron complexes supported by a β‐diketiminato ligand (Dippnacnac) and their catalytic activity in dehydrocoupling of secondary phosphines. Anionic and neutral mono‐ or diphosphido complexes were obtained from the reaction of [(Dippnacnac)FeCl2Li(dme)2] with the R2PLi (R = iPr, tBu, Cy, Ph) phosphides by tuning the stoichiometric ratio, polarity of the solvent, and...
seen 111 times