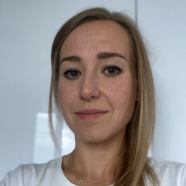 dr inż. Kinga Kaniewska-Laskowska
The reactivity of an anionic phosphanylphosphinidene complex of tungsten(VI), [(2,6-i-Pr2C6H3N)2(Cl)- W(η2-t-Bu2P=P)]Li·3DME toward PMe3, halogenophosphines, and iodine was investigated. Reaction of the starting complex with Me3P led to formation of a new neutral phosphanylphosphinidene complex, [( 2,6-i-Pr2C6H3N)2(Me3P)W(η2-t-Bu2P=P)]. Reactions with halogenophosphines yielded new catena-phosphorus complexes. From reaction with...

We report the synthesis of the first series of terminal phosphido iron complexes supported by a β‐diketiminato ligand (Dippnacnac) and their catalytic activity in dehydrocoupling of secondary phosphines. Anionic and neutral mono‐ or diphosphido complexes were obtained from the reaction of [(Dippnacnac)FeCl2Li(dme)2] with the R2PLi (R = iPr, tBu, Cy, Ph) phosphides by tuning the stoichiometric ratio, polarity of the solvent, and...

Coordination complexes that possess large magnetic anisotropy (otherwise known as zero-field splitting, ZFS) have possible applications in the field of magnetic materials, including single molecule magnets (SMMs). Previous studies have explored the role of coordination number and geometry in controlling the magnetic anisotropy and SMM behavior of high-spin (S = 3/2) Co(II) complexes. Building upon these efforts, the present work...
seen 910 times