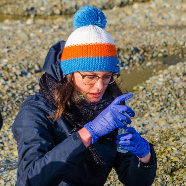 Persistent organic pollutants (POPs) have been a topic of interest in environmental sciences for > 60 years. POPs in the Arctic have been investigated since the 1970s, when first atmospheric measurements revealed the presence of these pollutants in the polar regions. Major contaminant transport routes to the Arctic include atmospheric and oceanic transport, as well as inflow from rivers and sea ice. The sources of pollutants, such...

The paper presents changes in concentration levels of dioxin-like compounds that can be observed over the course of four study seasons in water samples collected from the Arctic watershed of Svalbard. The conducted analysis involved anthropogenic and natural factors that may affect the concentration of PAHs in the study samples of water. An attempt is made to indicate the emission source of the compounds being deposited and to...

The Arctic hosts a set of unique ecosystems, characterised by extreme environmental conditions and undergoing a rapid change resulting from the average temperature rising. We present a study on an aquatic ecosystem of the Revelva catchment (Spitsbergen), based on samples collected from the lake, river and their tributaries, in the summer of 2016. The landscape variety of the study site and the seasonal change in the hydrological...
Obtained scientific degrees/titles
Obtained science degree

dr inż. Chemical sciences

(Natural sciences)
seen 988 times