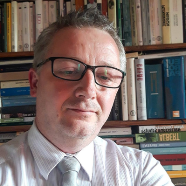 This article offers a reflection – against the historical and literary background of the epoch – on Chūya Nakahara's work (1907–1937), who was the precursor of the Japanese syllabicaccentual verse (particular of the sonnet). Comparative analysis of his poem Mata kon haru (Spring comes again) and its Polish translation (included in the only Polish anthology of contemporary Japanese poetry...

Celem niniejszego artykułu jest przedstawienie propozycji niesylabicznego opisu morfologii predykatywu w języku starojapońskim. Przedstawiony model znacznie upraszcza koniugację czasownika (w porównaniu do powszechnie stosowanego opisu klasycznego) oraz podkreśla typ aglutynacyjny języka starojapońskiego.

The article is an analysis of Polish translations of two novels by Murakami Haruki: "The End of the World and the Hard-boiled Wonderland" and "South of the Border, West of the Sun". This analysis focuses on the problem of the accuracy of Polish translations and shows - without any doubt - that even very slight mistakes may cause the lose of some important factors from the deep structure of the novels. Even in the novels by Murakami...
Obtained scientific degrees/titles
Obtained science degree

dr Literary studies

(Humanities)
Academical researcher majoring in classical and contemporary Japanese literature and Japanese language teaching. Currently, I am working on the first Polish translation of "Heike Monogatari."
seen 406 times