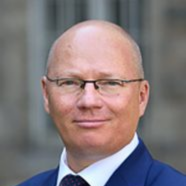 prof. dr hab. inż. Krzysztof Wilde
A novel sandwich composite footbridge is presented in the paper, as an example of practical application of laminated composites in civil engineering. The in situ static load tests of the footbridge before its acceptation for exploitation are shown and discussed. The results are compared with the corresponding ones from a numerical equivalent single layer model of the sandwich structure created within the framework of finite element...

Development strategy for the port of Gdańsk assumes that , up to 2027, it will become the main transport centre in the Baltic Sea region. To this end , for many years work has been carried out to facilitate access to the port both by sea and land. One of the elements of extension of the port is the building of another terminal of Deepwater Container Terminal , Gdańsk. In this task, geotechnical operations aimed at appropriate...

The paper deals with automated monitoring of damage evolution in concrete elements subjected to three-point bending tests. The monitoring is based on the nonlinear interactions of traveling ultrasonic waves with micro-crack zones inside the concrete specimens and surface-breaking cracks. The developed procedure assumes semi-continuous ultrasonic testing during the element full loading cycle and generation of the power spectral...
Obtained scientific degrees/titles
Obtained science title

prof. Construction

(Technology)

Obtained science degree

dr hab. Construction

(Technology)

Obtained science degree

dr Construction

(Technology)

Uniwersytet Tokijski, Japonia
seen 2337 times