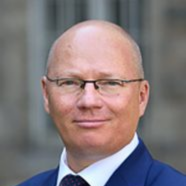 prof. dr hab. inż. Krzysztof Wilde
A novel sandwich composite footbridge is presented in the paper, as an example of practical application of laminated composites in civil engineering. The in situ static load tests of the footbridge before its acceptation for exploitation are shown and discussed. The results are compared with the corresponding ones from a numerical equivalent single layer model of the sandwich structure created within the framework of finite element...

This paper investigates inspection of reinforced concrete elements sensitive to the splitting failure. The behaviour of a reinforced concrete specimen subjected to a tensile stress is considered. The damage detection procedure is based on the ultrasonic wave propagation technique. The piezoelectric transducers are located on both ends of the specimen and the measurements are taken periodically during the incrementally increased...

W artykule przedstawiono wyniki doświadczalne i teoretyczne badania zjawiska muzyki silosowej podczas przepływów materiałów granulowanych w silosach. Badania dynamiczne i tomograficzne wykonane w modelu silosu napełnionego piaskiem. Obliczenia numeryczne wykonano przy zastosowaniu metody elementów skończonych i mikropolarnego modelu hipoplastycznego z uwzględnieniem dynamicznej interakcji ściany z piaskiem.
Obtained scientific degrees/titles
Obtained science title

prof. Construction

(Technology)

Obtained science degree

dr hab. Construction

(Technology)

Obtained science degree

dr Construction

(Technology)

Uniwersytet Tokijski, Japonia
seen 3695 times