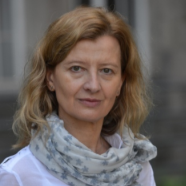 prof. dr hab. inż. arch. Lucyna Nyka
Pełnomocnik Rektora PG ds. Zag.Przestrz.Kamp.PG
Dean
Workplace

Gmach Główny pokój 505

Phone

(58) 347 16 33
Pervasive media and interactive technologies have become inseparable not only from our everyday life but also from architecture and city spaces. However, the generic use of new technologies in the design process and material production that affects contemporary architecture, results in buildings that become mere visual objects losing their hapticity and non-visual qualities. Despite the substantial advancement in the research studies...

The paper searches into the potential of media and interactive projects to support participation and generate social encounters in public spaces. Moreover, it proposes implementation of media and interactive projects into city planning processes. On the basis of theoretical approaches, case studies and interdisciplinary surveys the paper gives insight how interactive and media architecture can engage people in activities in urban...

The paper gives insights into different forms of movement in contemporary architecture and examines them based on the reasons for their implementation. The main objective of the paper is to determine: the degree to which the complexity of kinematic architecture results from functional and spatial needs and what other motivations there are. The method adopted to investigate these questions involves theoretical studies and comparative analyses...
Obtained scientific degrees/titles
Obtained science degree

dr hab. inż. arch. Architecture and urban sciences

(Technology)

Wydział Architektury Politechnika Wrocławska

Obtained science degree

dr inż. arch. Architecture and urban sciences

(Technology)
seen 963 times