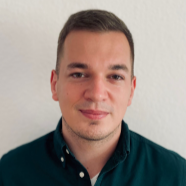 mgr inż. Łukasz Pawłowski
Titanium and its alloys are the biomaterials most frequently used in medical engineering, especially as parts of orthopedic and dental implants. The surfaces of titanium and its alloys are usually modified to improve their biocompatibility and bioactivity, for example, in connection with the deposition of hydroxyapatite coatings. The objective of the present research was to elaborate the technology of electrophoretic deposition...

Nowadays, hydroxyapatite coatings are the most common surface modification of long-term implants. These coatings are characterized by high thickness and poor adhesion to the metallic substrate. The present research is aimed at characterizing the properties of nanohydroxyapatite (nanoHAp) with the addition of copper nanoparticle (nanoCu) coatings deposited on the Ti13Zr13Nb alloy by an electrophoresis process. The deposition of...

Currently, a significant problem is the production of coatings for titanium implants, which will be characterized by mechanical properties comparable to those of a human bone, high corrosion resistance, and low degradation rate in the body fluids. This paper aims to describe the properties of novel chitosan/Eudragit E 100 (chit/EE100) coatings deposited on titanium grade 2 substrate by the electrophoretic technique (EPD). The deposition...
seen 1379 times