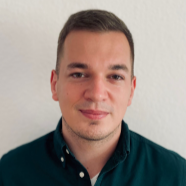 Łukasz Pawłowski
Titanium and its alloys are the biomaterials most frequently used in medical engineering, especially as parts of orthopedic and dental implants. The surfaces of titanium and its alloys are usually modified to improve their biocompatibility and bioactivity, for example, in connection with the deposition of hydroxyapatite coatings. The objective of the present research was to elaborate the technology of electrophoretic deposition...

Nowadays, hydroxyapatite coatings are the most common surface modification of long-term implants. These coatings are characterized by high thickness and poor adhesion to the metallic substrate. The present research is aimed at characterizing the properties of nanohydroxyapatite (nanoHAp) with the addition of copper nanoparticle (nanoCu) coatings deposited on the Ti13Zr13Nb alloy by an electrophoresis process. The deposition of...

The surface treatment of titanium implants has been applied mainly to increase surface bioactivity and, more recently, to introduce antibacterial properties. To this end, composite coatings have been investigated, particularly those based on hydroxyapatite. The present research was aimed at the development of another coating type, chitosan–nanosilver, deposited on a Ti13Zr13Nb alloy. The research comprised characterization of the...
seen 457 times