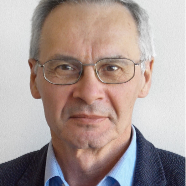 prof. dr hab. inż. Maciej Niedźwiecki
Profesor
Workplace

Gmach Elektroniki Telekomunikacji i Informatyki pokój 548

Phone

(58) 347 25 19
Head of Department
Workplace

Gmach Elektroniki Telekomunikacji i Informatyki pokój 544

Phone

(58) 347 25 32
Conveyor belt type checkweighers are complex mechanical systems consisting of a weighing sensor (strain gauge load cell, electrodynamically compensated load cell), packages (of different shapes, made of different materials) and a transport system (motors, gears, rollers). Disturbances generated by the vibrating parts of such a system are reflected in the signal power spectra in a form of strong spectral peaks, located usually in...

W artykule rozważany jest problem identyfikacji obiektów o parametrach zmieniających się w sposób pseudookresowy. Przedstawiono w nim algorytm oparty o metodę funkcji bazowych umożliwiający śledzenie takich obiektów oraz pokazano atrakcyjne z punktu widzenia złożoności obliczeń jego wersje zdekomponowane. Przydatność rozważanych algorytmów uzasadniono porównując je z rozwiązaniami innych autorów.

When estimating the correlation/spectral structure of a locally stationary process, one has to make two important decisions. First, one should choose the so-called estimation bandwidth, inversely proportional to the effective width of the local analysis window, in the way that complies with the degree of signal nonstationarity. Too small bandwidth may result in an excessive estimation bias, while too large bandwidth may cause excessive...
seen 380 times