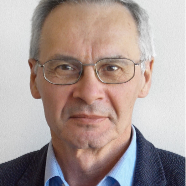 prof. dr hab. inż. Maciej Niedźwiecki
Professor
Workplace

Gmach Elektroniki Telekomunikacji i Informatyki pokój 548

Phone

(58) 347 25 19
Head of Department
Workplace

Gmach Elektroniki Telekomunikacji i Informatyki pokój 544

Phone

(58) 347 25 32
Conveyor belt type checkweighers are complex mechanical systems consisting of a weighing sensor (strain gauge load cell, electrodynamically compensated load cell), packages (of different shapes, made of different materials) and a transport system (motors, gears, rollers). Disturbances generated by the vibrating parts of such a system are reflected in the signal power spectra in a form of strong spectral peaks, located usually in...

W artykule przedstawiono tzw. uogólniony periodogram pozawlający na określenie liczby funkcji bazowych opisujących obiekt o parametrach zmieniających się w sposób pseudookresowy. Pokazano w jaki sposób określić wartości początkowe dla algorytmów opartych na metodzie funkcji bazowych na jego podstawie. Skuteczność zaproponowanych metod zilustrowano przykładami.

In this application-oriented paper we consider the problem of elimination of impulsive disturbances, such as clicks, pops and record scratches, from archive audio recordings. The proposed approach is based on bidirectional processing—noise pulses are localized by combining the results of forward-time and backward-time signal analysis. Based on the results of specially designed empirical tests (rather than on the results of theoretical analysis),...
seen 1198 times