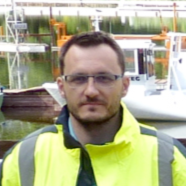 Force Technology has been working intensively with trim optimisation tests for almost last 10 years. Focus has primarily been put on the possible power savings and exhaust gases reduction. This paper describes the trim optimisation process for a large cargo vessel. The physics behind changed propulsive power is described and the analyses in order to elaborate the optimum trimmed conditions are presented. Different methods for prediction...

This paper presents the preliminary part of comprehensive manoeuvring open- water tests of a gas carrier model. The paper focuses on open water experiments with an azimuthing podded propulsor. The test program was carried out in the cavitation tunnel and the large towing tank of Ship Hydromechanics Division, Ship Design and Research Centre, Gdańsk. The pod was tested as a pushing unit with a 161.3 mm diameter propeller. Steering...

This paper aims to present a new approach in the prediction of manoeuvring abilities of pod-driven ships. A new mathematical model of motions based on MMG methodology was developed and a new type of description of forces acting on azimuth drives is presented. Captive model tests of medium-size coastal tanker and pod open water tests were carried out in CTO S.A. (Ship Design and Research Centre S.A.) to obtain hull hydrodynamic derivatives...
Obtained scientific degrees/titles
Obtained science degree

dr inż. Mechanical engineering

(Technology)
seen 1190 times