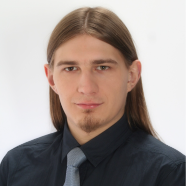 dr inż. Maciej Wróbel
Extensive research in the area of optical sensing for medical diagnostics requires development of tissue phantoms with optical properties similar to those of living human tissues. Development and improvement of in vivo optical measurement systems requires the use of stable tissue phantoms with known characteristics, which are mainly used for calibration of such systems and testing their performance over time. Optical and mechanical...

We present the optical measurement techniques used in human skin phantom studies. Their accuracy and the sources of errors in microscopic parameters' estimation of the produced phantoms are described. We have produced optical phantoms for the purpose of simulating human skin tissue at the wavelength of 930 nm. Optical coherence tomography was used to measure the thickness and surface roughness and to detect the internal inhomogeneities....

This study reports the interactions of modified nanodiamond particles in vitro with human blood. Modifications performed on the nanodiamond particles include oxygenation with a chemical method and hydrogenation upon chemical vapor deposition (CVD) plasma treatment. Such nanodiamonds were later incubated in whole human blood for different time intervals, ranging from 5 min to 5 h. The morphology of red blood cells was assessed along...
Obtained scientific degrees/titles
Obtained science degree

dr inż. Automation, electronic and electrical engineering

(Engineering and Technology)
seen 1458 times