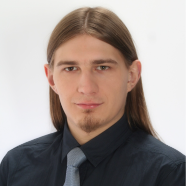 dr inż. Maciej Wróbel
Extensive research in the area of optical sensing for medical diagnostics requires development of tissue phantoms with optical properties similar to those of living human tissues. Development and improvement of in vivo optical measurement systems requires the use of stable tissue phantoms with known characteristics, which are mainly used for calibration of such systems and testing their performance over time. Optical and mechanical...

We present the optical measurement techniques used in human skin phantom studies. Their accuracy and the sources of errors in microscopic parameters' estimation of the produced phantoms are described. We have produced optical phantoms for the purpose of simulating human skin tissue at the wavelength of 930 nm. Optical coherence tomography was used to measure the thickness and surface roughness and to detect the internal inhomogeneities....

We present an alternative to the conventional approach, phantoms without scattering nanoparticles, where scattering is achieved by the material itself: spherical cavities trapped in a silicone matrix. We describe the properties and fabrication of novel optical phantoms based on a silicone elastomer polydimethylsiloxane (PDMS) and glycerol mixture. Optical properties (absorption coefficient µa, reduced scattering coefficient µs',...
Obtained scientific degrees/titles
Obtained science degree

dr inż. Automation, electronic and electrical engineering

(Engineering and Technology)
seen 854 times