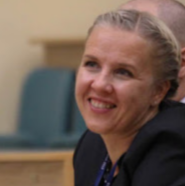 dr hab. inż. Magdalena Palacz
W pracy przedstwiono sposoby porawy czułości metod detekcji uszkodzeń wykorzystujacych eksperyentalne parametry modalne konstrukcji. Wykazano, że zastosowanie zawansowanych technik obróbki sygnałów pomiarowych pozwala zdecydowanie poprwaić skutecznośc znanych z literatury metod.

The aim of this paper is to examine how damage indicators are sensitive to changing number of frequencies and mode shapes and also to number and location of measurement points. The influence of measurement errors was also analyzed for all cases. For the analysis, those damage indicators are chosen which use changes in such modal parameters as natural frequencies and mode shapes and also differences between the curvatures of the damaged...
Obtained scientific degrees/titles
Obtained science degree

dr hab. inż. Mechanical engineering

(Engineering and Technology)

Politechnika Śląska, Wydział Mechaniczny Technologiczny

Obtained science degree

dr inż. Mechanics

(Technology)

Instytut Maszyn Przepływowych PAN im. R. Szewalskiego
seen 1162 times