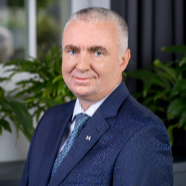 dr hab. inż. Marcin Morawiec
Professor
Workplace

Gmach Elektrotechniki i Automatyki B ul. Sobieski pokój EM 218

Phone

(58) 347 11 76
This paper contains a relatively new synthesis method for non-linear objects, named backstepping. This method can be used to obtain the observer structure. The paper presents the structure of the speed observer which is a new proposition of observer backstepping with additional state variables marked Z. The rotor speed can be estimated in three different ways. The first is based on the adaptive approach, the second on the nonadaptive...

The application of current source inverters (CSI)in induction motor (IM) drives offers a number of advantages,including: voltage boosting capability, natural shoot-throughshort-circuit protection and generation of sinusoidal voltages.The exact generation of sinusoidal voltages is possible thanks tothanks to the effect of the output ac filter capacitors and mayimprove the accuracy of sensorless IM control. The eliminationof high...

The paper describes the voltage control technique of induction machines supplied by a current source inverter. The control system is based on proposed new multi-scalar variables, which are named "r." The control system contains the output filter capacitor's model. In the sensorless control system the Z type backstepping speed observer was applied. The mathematical dependences are confirmed by simulation and experimental research.
Obtained scientific degrees/titles
Obtained science degree

dr hab. inż. Electrical engineering

(Technology)

Obtained science degree

dr inż. Electrical engineering

(Technology)
seen 888 times