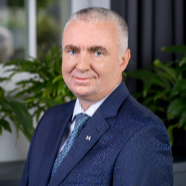 dr hab. inż. Marcin Morawiec
Professor
Workplace

Gmach Elektrotechniki i Automatyki B ul. Sobieski pokój EM 218

Phone

(58) 347 11 76
This paper contains a relatively new synthesis method for non-linear objects, named backstepping. This method can be used to obtain the observer structure. The paper presents the structure of the speed observer which is a new proposition of observer backstepping with additional state variables marked Z. The rotor speed can be estimated in three different ways. The first is based on the adaptive approach, the second on the nonadaptive...

The paper presents the control possibility of five phase induction machines. In the proposed solution the machine model vector form is not transformed to the (dq)-coordinate system, that is connected to rotor flux vector, but utilizes the stationary system ( αβ ). Moreover, the nonlinear model linearization is based on demonstrated nonlinear variables transformation for i-orthogonal ( αβ )(n) planes. By introducing the backstepping...

This paper proposes a speed observer algorithm for the sensorless control of a doubly-fed induction generator based on classical adaptive backstepping technique. The sensorless control is shown using classic stator field oriented control which is used to active and reactive power control. Performance of the proposed algorithm of a speed observer is validated by simulation and experimental results obtained using a small-rating generator...
Obtained scientific degrees/titles
Obtained science degree

dr hab. inż. Electrical engineering

(Technology)

Obtained science degree

dr inż. Electrical engineering

(Technology)
seen 2168 times