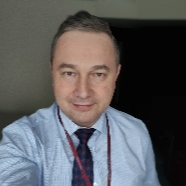 dr hab. inż. Marek Adamowicz
Employment
2013 - present Assistant Professor

at Automation of Electric Drives and Energy Conversion

2011 - 2013 Assistant Professor

at Mechatronics and High Voltage Engineering

Professor

at Department of Controlled Electric Drives
Due to ongoing research work, a prototype test rig for testing high-speed motors/generators has been developed. Its design is quite unique as the two high- speed machines share a single shaft with no support bearings between them. A very high maximum operating speed, up to 80,000 rpm, was required. Because of the need to minimise vibration during operation at very high rotational speeds, rolling bearings were used. To eliminate...

The design of rolling stock plays a key role in the attractiveness of the rail transport. Train design must strictly meet the requirements of rail operators to ensure high quality and cost-eective services. Semiconductor power devices made from silicon carbide (SiC) have reached a level of technology enabling their widespread use in traction power converters. SiC transistors oering energy savings, quieter operation, improved reliability...

A novel non-isolated resonant quasi-impedance (quasi-Z)-source network DC–DC converter is proposed. The resonant impedance source network is derived from the quasi-Z-source network by including the autotransformer-based resonant cell instead of the second inductor of the quasi-Z-network. The leakage inductance of the autotransformer and two resonant capacitors connected in series with the autotransformer windings constitute a high-frequency...
Obtained scientific degrees/titles
Obtained science degree

dr hab. inż. Automation, electronic and electrical engineering

(Engineering and Technology)

Obtained science degree

dr inż. Electrical engineering

(Technology)
seen 2409 times