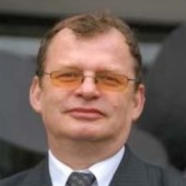 Professor
Workplace

Budynek Wydziału Oceanotechniki i Okrętownictwa pokój 132

Phone

(58) 347 21 35
Pełnomocnik Rektora ds. żeglarstwa
Vice-Rector for Education
Porównano układy napędowe okrętowe kombinowane turbina gazowa- turbina parowa oraz spalinowy okrętowy silnik tłokowy wolnoobrotowy - turbina parowa. Porównywano moce oraz zużycie paliwa oraz parametry pary świeżej układu turbiny parowej.

An evaluation proposal (quantitative determination) of an y combustion turbine engine operation has been presented , wherein the impact energy occurs at a given time due to Energy conversion. The fact has been taken into account that in this type of internal combustion engines the energy conversion occurs first in the combustion chambers and in the spaces between the blade of the turbine engine. It was assumed that in the combustion...

The use of inlet air fogging installation to boost the power for gas turbine engines is widely applied in the power generation sector. The application of fogging to mechanical drive is rarely considered in the literature [1]. This paper will cover some considerations relating to its application to gas turbines in ship drive. There is an important evaporative cooling potential throughout the world when the dynamic data is evaluated,...
Obtained scientific degrees/titles
Obtained science degree

dr hab. inż. Mechanical engineering

(Technology)

Obtained science degree

dr inż. Mechanical engineering

(Technology)
seen 1368 times