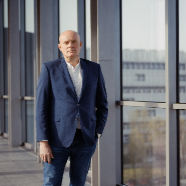 prof. dr hab. inż. Marek Krawczuk
The aim of this paper is to examine how damage indicators are sensitive to changing number of frequencies and mode shapes and also to number and location of measurement points. The influence of measurement errors was also analyzed for all cases. For the analysis, those damage indicators are chosen which use changes in such modal parameters as natural frequencies and mode shapes and also differences between the curvatures of the damaged...

Body surface area (BSA) plays a key role in several medical fields, including cancer chemotherapy, transplantology, burn treatment and toxicology. BSA is often a major factor in the determination of the course of treatment and drug dosage. A series of formulae to simplify the process have been developed. Because easy-to-identify, yet general, body coefficient results of those formulae vary considerably, the question arises as to...

W pracy przedstawiono i porównano teorie belek zginanych począwszych od teorii elementarnych, aż do teorii wyższych rzędów. Przedstawiono krzywe dyspersi dla poszczególnych teorii i na ich podstawione oszacowano zakres stosowalności danej teorii.
Obtained scientific degrees/titles
Obtained science title

prof. dr hab. inż. Mechanics

(Technology)

Instytut Maszyn Przepływowych PAN

Obtained science degree

dr hab. inż. Mechanics

(Technology)

Instytut Maszyn Przepływowych PAN

Obtained science degree

dr inż. Mechanics

(Technology)

Instytut Maszyn Przepływowych PAN
seen 789 times