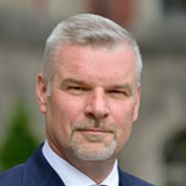 dr hab. inż. Marek Przyborski
Vice-Dean for Cooperation and Innovation
Workplace

Budynek Wydz. Bud. Lad.
pokój 110

open in new tab

Phone

(58) 347 17 51, (58) 347 22 05

E-mail
The publication describes the possible use of tele-geoprocessing as a synergy of modern IT solutions, telecommunications and GIS algorithms. The paper presents a possibility of urban traffic monitoring with the use of mobile GIS indicators of dedicated monitoring system designed for taxi corporation. The system is based on a stationary and mobile software package. The optimal and minimal assumptions for the monitoring of urban...

One of the fundamental states of the sea surface is its heave. Despite of years of the intense scientific inquiry, no clear understanding of the influence of this aspect on the dynamics of the sea environment has emerged. The separation of two nearby fluid elements which one may observed for example as a free floating of small objects on the sea surface (rescuers on the rough sea or small research vessels) is caused by the interaction...

The article presents the analysis devoted to human face data obtained by means of precise photographic scanners. Collected point clouds were used to make high precision meshes of human face. The essence of these studies is the comparison of relative features as well as the comparison of absolute models which require as precisely as possible matching of face models. The article focuses on the analysis of various parts of the human...
Obtained scientific degrees/titles
Obtained science degree

dr hab. inż. Geodesy and cartography

(Technology)

Akademia Górniczo Hutnicza

Obtained science degree

dr inż. Geodesy and cartography

(Technology)

Akademia Marynarki Wojennej
seen 537 times