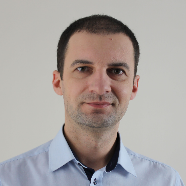 Study on applicability of two modal identification techniques in irrelevant cases is made in this paper. The following techniques are considered: Peak Picking based on correlation analysis (PP-CA), dedicated for ambient vibrations and Eigensystem Realization Algorithm (ERA), formulated for free decay vibrations investigation. Irrelevant cases are found when analyzed signals are different than recommended to a given technique. The...

The paper presents the results of the numerical analysis of a simple vehicle passing over a simply supported bridge span. The bridge is modelled by a Euler-Bernoulli beam. The vehicle is modelled as a linear, visco-elastic oscillator, moving at a constant speed. The system is described by a set of differential equations of motion and solved numerically using the Runge-Kutta algorithm. The results are compared with the solution...

The paper presents the results of dynamic analysis of the small-span railway bridge, subjected to an action of moving trains. Numerical simulations were performed using three different load models: series of moving forces, series of moving single-mass and double-mass oscillators. The parameters of the vehicle were taken from the existing EN57 train. The parameters of the bridge were taken from the existing steel span of 10,24 m...
Obtained scientific degrees/titles
Obtained science degree

dr inż. Construction

(Technology)
seen 2088 times