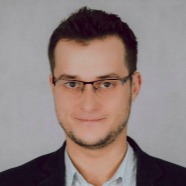 dr inż. Marek Sylwester Tatara
The paper addresses the problem of computational efficiency of the pipe-flow model used in leak detection and identification systems. Analysis of the model brings attention to its specific structure, where all matrices are sparse. With certain rearrangements, the model can be reduced to a set of equations with tridiagonal matrices. Such equations can be solved using the Thomas algorithm. This method provides almost the same values...

The paper concerns an original evolutionary music composition system. On the basis of available solutions, we have selected a finite set of music features which appear to have a key impact on the quality of composed musical phrases. Evaluation criteria have been divided into rule-based and statistical sub-sets. Elements of the cost function are modeled using a Gaussian distribution defined by the expected value and variance obtained...
Obtained scientific degrees/titles
Obtained science degree

dr inż. Automation, electronic and electrical engineering

(Engineering and Technology)
seen 1192 times