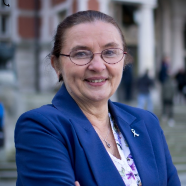 prof. dr hab. inż. Maria Jolanta Milewska
Full Professor
Workplace

Budynek A Wydziału Chemicznego pokój 4

Phone

(58) 347 11 34
Amino sugars are important constituents of a number of biomacromolecules and products of mi crobial secondary metabolism, including antibiotics. For most of them, the amino group is located at the positions C1, C2 or C3 of the hexose or pentose ring. In biological systems, amino sugars are formed due to the catalytic activity of specific aminotransferases or amidotransferases by introducing an amino functionality derived from L-glutamate...

Many antimicrobial drugs are poorly active against pathogenic microbes causing intracellular infections, such as Mycobacterium tuberculosis or Plasmodium falciparum. On the other hand, several known antimicrobial agents are not effective enough because of their limited cellular penetration. A common feature of both challenges is the inability of an active agent to cross the biological membrane(s). One of the possible approaches...

Imidazo[5,1-f][1,2,4]triazin-4(3H)-ones, as isosteres of purine, are of interest for pharmaceutical research as potential substrates for the synthesis of cGMP-PDE5 inhibitors. We present a novel, alternative method for the synthesis of imidazotriazinones, that differs from the previously reported ones with respect to the method of construction of the triazinone ring in the molecule. The key step in our approach is condensation...
Obtained scientific degrees/titles
Obtained science title

prof. dr hab. inż. Chemistry

(Chemical sciences)

Obtained science degree

dr hab. inż. Chemistry

(Chemical sciences)

Obtained science degree

dr inż. Chemistry

(Chemical sciences)
seen 453 times