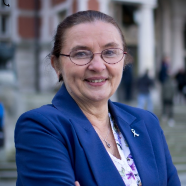 prof. dr hab. inż. Maria Jolanta Milewska
Profesor
Workplace

Budynek A Wydziału Chemicznego pokój 4

Phone

(58) 347 11 34
Head of Department
Workplace

Budynek A Wydziału Chemicznego pokój 109

Phone

(58) 347 12 34, (58) 347 20 23
Many antimicrobial drugs are poorly active against pathogenic microbes causing intracellular infections, such as Mycobacterium tuberculosis or Plasmodium falciparum. On the other hand, several known antimicrobial agents are not effective enough because of their limited cellular penetration. A common feature of both challenges is the inability of an active agent to cross the biological membrane(s). One of the possible approaches...

Amino sugars are important constituents of a number of biomacromolecules and products of mi crobial secondary metabolism, including antibiotics. For most of them, the amino group is located at the positions C1, C2 or C3 of the hexose or pentose ring. In biological systems, amino sugars are formed due to the catalytic activity of specific aminotransferases or amidotransferases by introducing an amino functionality derived from L-glutamate...

Zsyntezowano kilka optycznie czynnych estrów dietylowych kwasu bis(tiooksamowego). Związki te, z powodu ich zdolności do tworzenia ze sobą komplementarnych cyklicznych wiązań wodorowych, są potencjalnie użytecznym materiałem budulcowym większych układów supramolekularnych. Odpowiednie układy modelowe otrzymano z optycznie czynnych 1,2-diamin, które poddano acylowaniu chlorooksooctanem etylu, a następnie otrzymane półprodukty tionowano...
Obtained scientific degrees/titles
Obtained science title

prof. dr hab. inż. Chemistry

(Chemical sciences)

Obtained science degree

dr hab. inż. Chemistry

(Chemical sciences)

Obtained science degree

dr inż. Chemistry

(Chemical sciences)
seen 708 times