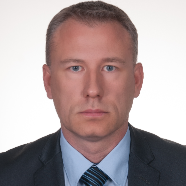 dr hab. inż. Mariusz Kaczmarek
In this paper we summarize results of several research projects devoted to development of new diagnostic methods and procedures based on quantitative infrared thermography in medical applications. First, basics of active dynamic thermography are presented. Described are both, instrumentation and software comprising measurement procedures including collection of series of IR-images after external excitation, data treatment with...

The aim of this study was to find the relationship between active dynamic thermography (ADT) with cold excitation and burn depth. This new modality of evaluation of burns seems to be an attractive proposal for quantitative classification, allowing proper choice of burn wound treatment: conservative or surgical, especially compared with static thermography. The work was an in vivo experiment on domestic pigs, and a small number...

Color blindness is a serious perception problem. Suffering individuals cannot understand messages, which are carrying by many images, especially those, distributed by WWW. In this paper we are proposing three image processing methods to enhance image recognition and understanding by persons with dichromacy. Color difference image is introduced to represent color perception dissimilarity. Two color transformation methods are presented....
Obtained scientific degrees/titles
Obtained science degree

dr hab. inż. Biomedical engineering

(Engineering and Technology)
seen 2676 times