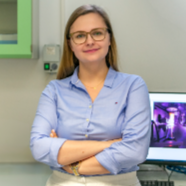 dr inż. Marta Prześniak-Welenc
We report an easily controllable, eco-friendly method for tailoring the properties of reduced graphene oxide (rGO) by means of oxygen plasma. The effect of oxygen plasma treatment time (1, 5 and 10 minutes) on the surface properties of rGO was evaluated. Physicochemical characterization using microscopic, spectroscopic and thermal techniques was performed. The results revealed that different oxygen-containing groups (e.g. carboxyl,...

The structure, optical and electrical properties of manganese borosilicate glasses of the composition xMnO–(80 − x)SiO 2 –20B 2 O 3 (x = 40, 50, and 60 mol%) were investigated. The dependence of the glass structure on its composition was discussed and related to electrical properties. A separation of two amorphous phases was observed. It was suggested that one phase is MnO-rich and the other is SiO 2 -rich. It was found that...

Graphene oxide was functionalized with simultaneous reduction to produce phosphonated reduced graphene oxide in a novel, fully scalable, one-pot method. The phosphonic derivative of graphene was obtained through the reaction of graphene oxide with phosphorus trichloride in water. The newly synthesized reduced graphene oxide derivative was fully characterized by using spectroscopic methods along with thermal analysis. The morphology...
Obtained scientific degrees/titles
Obtained science degree

dr inż. Physics

(Physical sciences)
seen 330 times