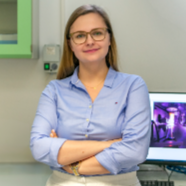 dr inż. Marta Prześniak-Welenc
Ammonium vanadates are of great interest as they exhibit unusual electrical and sensory properties.(NH4)2V6O16and (NH4)2V10O25$8H2O with various morphology were obtained in the hydrothermalsynthesis under controlled temperature and pressure. It was shown, that the pure (NH4)2V10O25$8H2Owas obtained under 50 bar of initial pressure, whereas lower pressure lead to the mixture of twocompounds. The influence of the pressure was studied...

Ammonium metavanadate, NH4VO3, plays an important role in the preparation of vanadium oxides and other ammonium compounds, such as NH4V3O8, (NH4)2V3O8, and NH4V4O10, which were found to possess interesting electrochemical properties. In this work, a new route for the synthesis of NH4VO3 is proposed by mixing an organic ammonium salt and V2O5 in a suitable solvent. The one-step procedure is carried out at room temperature. Additionally,...

In this paper, V2O5 nanostructures with a size depending on the annealing temperature are successfully synthesized by a sol-gel method. The crystal structure and morphology of samples are characterized by X-ray diffraction (XRD), X-ray photoelectron spectroscopy (XPS), transmission electron microscopy (TEM), selected area electron diffraction (SEAD) and scanning electron microscopy (SEM), respectively. Electrochemical testing such...
Obtained scientific degrees/titles
Obtained science degree

dr inż. Physics

(Physical sciences)
seen 2310 times