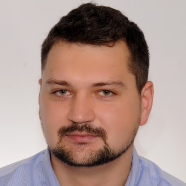 dr inż. Michał Gągol
Hydrodynamic and acoustic cavitation combined with advanced oxidation processes (AOPs), including, among others, the Fenton process, is a promising alternative to the technologies of wastewater treatment technologies in use today. The present review discusses processes based on cavitation combined with AOPs and evaluates their effectiveness in oxidation of organic contaminants. Complete degradation of, among others, p-nitrotoluene,...

Utilization of cavitation in advanced oxidation processes (AOPs) is a promising trend in research on treatment of industrial effluents. The paper presents the results of investigations on the use of hydrodynamic cavitation aided by additional oxidation processes (O3/H2O2/Peroxone) to reduce the total pollution load in the effluent from the production of bitumens. A detailed analysis of changes in content of volatile organic compounds...

Several advanced oxidation processes (AOPs) including photocatalytic processes were studied for effective treatment of complex model wastewater containing a wide variety of VOCs. The studies revealed synergistic effects of TiO2 based processes for improved degradation of the VOCs. A peroxone combined with TiO2/UV system (TiO2/UV/O3/H2O2) with a ratio between the oxygen source from the oxidant to chemical oxygen demand (COD) of...
seen 644 times