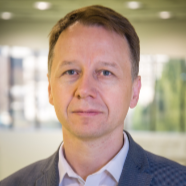 The paper presents a concept, a construction, a circuit model and experimental results of the double-rotor induction motor. This type of a motor is to be implemented in the concept of the electromagnetic differential. At the same time it should fulfill the function of differential mechanism and the vehicle drive. One of the motor shafts is coupled to the direction changing mechanical transmission. The windings of the external rotor...

This paper presents the mathematical model of a single-phase multi-winding core type transformer taking into account magnetic hysteresis phenomenon based on the feedback Preisach model (FPM). The set of loop differential equations was developed for a K-th winding transformer model where the flux linkages of each winding includes flux Φ common to all windings as a function of magneto motive force Θ of all windings. The first purpose...

In this paper a synchronous generator model is described. This model is developed on the assumption that in loaded and no load conditions the saturation effect affects the pole shoe in a different way. The developed model is based on the multiple saliency model and is formulated using winding function approach in machine variables. The influence of the non-uniform saturation of the pole shoe in load conditions on the performance...
Obtained scientific degrees/titles
Obtained science degree

dr Electrical engineering

(Technology)
seen 671 times