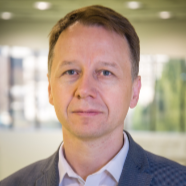 dr inż. Michał Michna
The paper presents a concept, a construction, a circuit model and experimental results of the double-rotor induction motor. This type of a motor is to be implemented in the concept of the electromagnetic differential. At the same time it should fulfill the function of differential mechanism and the vehicle drive. One of the motor shafts is coupled to the direction changing mechanical transmission. The windings of the external rotor...

This paper presents the design, modeling and tests of the prototype multicell piezoelectric motor (MPM). A new concept of the electromechanical structure of the considered prototype is based on three rotating-mode actuators. The electromechanical structure of each actuator has been considered as an independent one - referred to as a "single cell" (single actuator). Combined three resonant actuators generate three traveling waves...

This paper represents a numerical and experimental investigation of the multicell piezoelectric motor. The proposed design consists of three individual cells that are integrated into the stator, double rotor, and a preload system combined into a symmetrical structure of the motor. Each of the cells is characterized by a traveling wave and rotating mode motor. A finite element numerical analysis is carried out to obtain optimal...
Obtained scientific degrees/titles
Obtained science degree

dr Electrical engineering

(Technology)
seen 1245 times