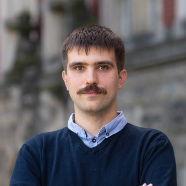 dr inż. Michał Jerzy Winiarski
Adiunkt
Workplace

Centrum Nanotechnologii A

Phone

+48 58 348 6618
Nitrogen doped TiO2 nanotube arrays were prepared by anodizing Ti foils in an organic electrolyte containing specified amounts of urea as nitrogen precursor. The photocatalytic activity of the samples was evaluated by analyzing the degradation kinetics of phenol in water. The influence of tubes' length, tubes' surface morphology and amount of nitrogen in the TiO2 lattice on hydroxyl radical formation efficiency, photocatalytic...

A series of Er-, Yb-, Ho-, Tb-, Gd-, Pr-TiO2 nanotubes (RE-NTs) was prepared via an electrochemical method. The as-prepared photocatalysts were characterized by X-ray diffraction (XRD), X-ray photoelectron spectroscopy (XPS), UV–vis absorption, scanning electron microscopy (SEM) and luminescent spectroscopy. The experiments demonstrated that toluene in the gas phase was successfully degraded under visible light (LEDs λmax = 465...

The development of a photocatalyst with remarkable activity to degrade pollutants in aqueous and gas phase requires visible lightresponsive stable materials, easily organized in the form of a thin layer (to exclude the highly expensive separation step). In this work, we present a one-step strategy for synthesizing material in the form of a self-organized TiO2/Ag2O nanotube (NT) array interlaced with silver nanoparticles (as in a...
Obtained scientific degrees/titles
Obtained science degree

dr inż. Physics

(Physical sciences)
seen 1706 times