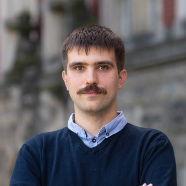 dr inż. Michał Jerzy Winiarski
Nitrogen doped TiO2 nanotube arrays were prepared by anodizing Ti foils in an organic electrolyte containing specified amounts of urea as nitrogen precursor. The photocatalytic activity of the samples was evaluated by analyzing the degradation kinetics of phenol in water. The influence of tubes' length, tubes' surface morphology and amount of nitrogen in the TiO2 lattice on hydroxyl radical formation efficiency, photocatalytic...

A series of Er-, Yb-, Ho-, Tb-, Gd-, Pr-TiO2 nanotubes (RE-NTs) was prepared via an electrochemical method. The as-prepared photocatalysts were characterized by X-ray diffraction (XRD), X-ray photoelectron spectroscopy (XPS), UV–vis absorption, scanning electron microscopy (SEM) and luminescent spectroscopy. The experiments demonstrated that toluene in the gas phase was successfully degraded under visible light (LEDs λmax = 465...

High-entropy alloys are made from random mixtures of principal elements on simple lattices, stabilized by a high mixing entropy. The recently discovered body-centered cubic (BCC) Ta-Nb-Hf-Zr-Ti high-entropy alloy superconductor appears to display properties of both simple crystalline intermetallics and amorphous materials; e.g., it has a well-defined superconducting transition along with an exceptional robustness against disorder....
Obtained scientific degrees/titles
Obtained science degree

dr inż. Physics

(Physical sciences)
seen 861 times