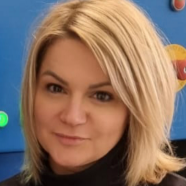 dr inż. Milena Supernak-Marczewska
The surface condition of an implant has a significant impact on response occurring at the implant-biosystem border. The knowledge of physical-chemical and biological processes allows for targeted modification of biomaterials to induce a specified response of a tissue. The present research was aimed at development of technology composing of obtaining the nanotube oxide layers on a porous titanium alloy Ti13Nb13Zr, followed by the...

The properties of chitosan coatings on titanium surfaces may be influenced by a variety of factors, including their chemical characteristics and the deposition method. The aim of this research was to determine the influence of a chitosan's origin (a type of shrimp) and deacetylation degree (DD), when deposited on a very smooth titanium surface, on adhesion and biological behavior. The tests were performed using chitosan of a degree...

Stopy miedzi z niklem, zwane cuniferami (Cu, Ni, Fe oraz R – reszta pierwiastków stopowych), są szeroko stosowane do produkcji elementów rurociągów okrętowych mających kontakt z wodą zaburtową, takich jak instalacja chłodzenia silnika głównego. Stopy te charakteryzują się bardzo wysoką odpornością korozyjną dzięki odpowiednio wykonanej pasywacji. Jednakże gdy pasywację przeprowadzi się nieprawidłowo, materiał traci właściwości...
seen 258 times