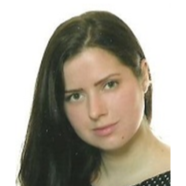 dr inż. Monika Wieczerzak
For centuries, mankind has contributed to irreversible environmental changes, but due to the modern science of recent decades, scientists are able to assess the scale of this impact. The introduction of laws and standards to ensure environmental cleanliness requires comprehensive environmental monitoring, which should also meet the requirements of Green Chemistry. The broad spectrum of Green Chemistry principle applications should...

Po raz pierwszy zsyntetyzowano obojętne kompleksy cynku i kobaltu naśladujące strukturę centrum aktywnego dehydrogenazy alkoholowej z wodą jako dodatkowym ligandem. Jakość otrzymanych kryształów pozwoliła na szczegółową analizę wewnątrzcząsteczkowych wiązań wodorowych w kryształach tych związków. Wnioski potwierdzono za pomocą spektroskopii FT-IR w ciele stałym.

The present study deals with assessment of ecotoxicological parameters of 9 drugs (diclofenac (sodium salt), oxytetracycline hydrochloride, fluoxetine hydrochloride, chloramphenicol, ketoprofen, progesterone, estrone, androstenedione and gemfibrozil), present in the environmental compartments at specific concentration levels, and theirmutual combinations by couples against Microtox® and XenoScreen YES/YAS® bioassays. As the quantitative...
seen 484 times