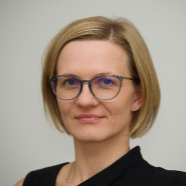 dr hab. inż. Monika Wilamowska-Zawłocka
Professor
Workplace

Budynek C Wydziału Chemicznego pokój 10

Phone

(58) 347 24 74

E-mail
Polymer derived silicon oxycarbide (SiOC) ceramics are investigated as potential anodes for lithiumion batteries. Different SiOC ceramics are prepared by pyrolysis (1000 °C and 1400 °C under controlled argon atmosphere) of polysiloxanes ceramic precursors. Preceramic polymers are synthesized using the sol–gel method. Phenyltriethoxysilane (PhTES) and methyltriethoxysilane (MTES) have been used as starting precursors and mixed with...

Praca dotyczy materiału hybrydowego złożonego z polimeru elektroaktywnego poli(3,4-etylenodioksytiofenu) i Błękitu Pruskiego. Wykonano pomiary spektroskopowe z użyciem technik: spektrometrii fotoelektronów wzbudzonych promieniami X (X-ray Photoelectron Spectroscopy (XPS)), spektroskopii absorpcyjnej struktury przykrawędziowej (X-ray Absorption Near Edge Structure (XANES)) oraz spektroskopii mikro-Ramana. Przeprowadzone badania...

New composite materials based on polymer-derived SiCN ceramics and hard carbons were studied in view of its application as anodes for lithium-ion batteries. Two kinds of composites were prepared by pyrolysis of the preceramic polysilazane (HTT1800, Clariant) at 1000 °C in Ar atmosphere mixed with hard carbons derived from potato starch (HC_PS) or with a hard carbon precursor, namely potato starch (PS), denoted as HTT/HC_PS and...
seen 1594 times