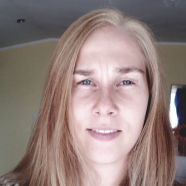 dr inż. Natalia Anna Wójcik
The structure, optical and electrical properties of manganese borosilicate glasses of the composition xMnO–(80 − x)SiO 2 –20B 2 O 3 (x = 40, 50, and 60 mol%) were investigated. The dependence of the glass structure on its composition was discussed and related to electrical properties. A separation of two amorphous phases was observed. It was suggested that one phase is MnO-rich and the other is SiO 2 -rich. It was found that...

he influence of heating and reduction processes on the structural, thermal and mechanical properties of bismuth-silicate glasses has been investigated. Two compositions of glasses: 40Bi2O3–60SiO2 (Bi0.57Si0.43Ox) and 27Bi2O3–73SiO2 (Bi0.43Si0.57Ox) were fabricated by a typical melt quenching technique. Then the reduction in hydrogen at 380 °C for 20, 42 or 67 h was performed. It was found that a 50 μm-thick layer was formed on...

The ac and dc electrical conductivity of barium titanate doped bismuth-vanadate as-quenched and heat-treated materials was measured in the frequency range from 1 mHz to 1 MHz and in the temperature range from 153 K to 423 K with the impedance spectroscopy method. The microstructure was investigated by means of XRD, scanning electron microscopy (SEM), atomic force microscopy (AFM) and confocal microscopy. The obtained results showed...
Obtained scientific degrees/titles
Obtained science degree

dr inż. Physics

(Physical sciences)
seen 1874 times