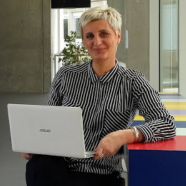 dr Nina Rizun
Significant progress has been made in linguistic-based text analytics particularly with the increasing availability of data and deep learning computational models for more accurate opinion analysis and domain-specific entity recognition. In understanding customer service experience from texts, analysis of sentiments associated with different stages of the service lifecycle is a useful starting point. However, when richer insights...

There is growing interest in applying computational methods in analysing large amount of data without sacrificing rigour in Information Systems research. In this paper, we demonstrate how the use of structural and temporal topic modelling can be employed to produce insights of both theoretical and practical importance from the analysis of textual comments on the quality of services in hospitals. As a first step, we revealed the...

More and more higher education institutions are offering specialized study programs for current and future managers of Smart Sustainable Cities (SSCs). In the process, they try to reconcile the interdisciplinary nature of such studies, covering at least the technical and social aspects of SSC management, with their own traditionally discipline-based organization. However, there is little guidance on how such interdisciplinarity...
seen 1459 times