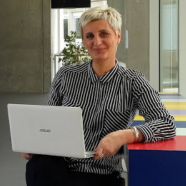 An efficient organization, management, and execution of tasks are central for the successful functioning of any organization. This topic was on the research agenda already in the early 1950s and keeps attracting the scientific community's attention today. Continuous advances and penetration of technologies in organizations are expected to increase task variety and complexity. This creates a constant demand for new methods to analyze,...

These days, a lot of crime-related events take place all over the world. Most of them are reported in news portals and social media. Crime-related event extraction from the published texts can allow monitoring, analysis, and comparison of police or criminal activities in different countries or regions. Existing approaches to event extraction mainly suggest processing texts in English, French, Chinese, and some other resource-rich...

Digital exclusion of seniors covers both social and technical drivers that affect the magnitude of this phenomenon. It arises from the fear of technology, reduced manual and mental abilities, socio-economic status, and also the mismatch between the technological environment and the needs of the elderly. The consideration of the needs of seniors are mainly implemented through social policies while the provision of government services...
seen 3357 times