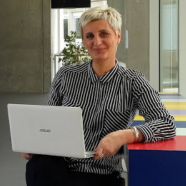 dr Nina Rizun
More and more higher education institutions are offering specialized study programs for current and future managers of Smart Sustainable Cities (SSCs). In the process, they try to reconcile the interdisciplinary nature of such studies, covering at least the technical and social aspects of SSC management, with their own traditionally discipline-based organization. However, there is little guidance on how such interdisciplinarity...

An efficient organization, management, and execution of tasks are central for the successful functioning of any organization. This topic was on the research agenda already in the early 1950s and keeps attracting the scientific community's attention today. Continuous advances and penetration of technologies in organizations are expected to increase task variety and complexity. This creates a constant demand for new methods to analyze,...

Smart cities governance (SCG) consists of both to foster technology-enabled innovation, and to utilize disruptive technologies (DT) outcomes and impacts to increase public value of urban services. Despite widespread discussion of DT benefits, scientific literature identifies multiple determinants of unintended negative consequences (UC) of DT deployment in smart city initiatives. By considering UC as the negative aspects resulting...
seen 1647 times