Determination of changes in viscosity of chitosan cosmetic preparations depending on shear rate.
Description
The rheological characteristics of chitosan were made on the basis of a viscosity measurement using a Brookfield viscometer, using LV SC4 - 25 spindles and shear rates from 0.3 to 32 s-1 (Fig. 1). Chitosan solutions at 1% concentrations in acetic acid were prepared. The samples were subjected to storage tests.
The data allowed to characterize the used chitosan preparations and assess their functional parameters as substances modifying the rheology of cosmetic solutions.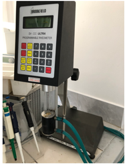 Fig.1. Brokfield rotational viscometer - model DV-III +.
Dataset file
CHITOSAN COSM.xls
196.0kB, MD5 e0b60b5545c749c353bccb090d2b81fe-1, downloads: 1
Details
Year of publication:

2020

Dataset language:

English

Fields of science:

Chemical sciences (Natural sciences)

License:

CC BY-NC-SA

Non-commercial - Share-alike

Raw data:

Data contained in dataset was not processed.

DOI:

Software:

EXCEL

Verified by:

Gdańsk University of Technology
Keywords
seen 9 times