Determination of changes in viscosity of chitosan solutions depending on shear rate.
Description
The rheological characteristics of chitosan solutions were based on viscosity measurements using a Brookfield viscometer, using LV SC4 - 25 spindles and shear rates from 4 to 53 s-1 (Fig. 1). Chitosan solutions with different molecular weights (low, medium and high) were prepared in concentrations from 1.5 to 3.0% in 0.5M acetic acid. The data allowed to characterize the used chitosans and assess their functional parameters as rheology modifying substances of cosmetic solutions.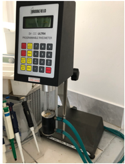 Fig.1. Brokfield rotational viscometer - model DV-III +.
Dataset file
CHITOSAN VIS.xlsx
37.5kB, MD5 85a7747f6ea4d5385725d658de513634-1, downloads: 3
Details
Year of publication:

2020

Dataset language:

English

Fields of science:

Chemical sciences (Natural sciences)

License:

CC BY-NC-SA

Non-commercial - Share-alike

Raw data:

Data contained in dataset was not processed.

DOI:

Software:

EXCEL

Verified by:

Gdańsk University of Technology
Keywords
seen 14 times